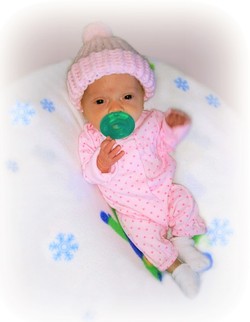 Adison Lee Trybus, a beautiful angel, passed away on June 24, 2018.
She was born on February 22, 2018 at Anne Arundel Hospital to Amber Nicole Farrell of St. Inigoes, MD and Michael Peter Trybus of Lusby, MD.
She was born premature at 2 lbs 2 oz. and was a strong fighter with beautiful eyes and an infectious smile. She was full of love and loved by many.
In addition to her parents, she is also survived by her grandparents: Kimberly Trybus of Lusby, Thomas Joseph Farrell III of Lexington Park, MD; Charles and Elaine Faust of St. Inigoes, and, MD; her aunts and uncles: Valerie and Mark Buckner of Dameron, MD, Linda and Mandy Purdy of St. Mary's City, MD, Bobby and Maggie Purdy of California, MD, Hayley Trybus of Glen Burnie, MD, Chris Bowers of Piney Point, MD, Patrick Bowers of Lusby, MD, Courtney Faucette of Huntingtown, MD, Chris Mayor of King George, MD, Tina Mayor, Aiden Adams and Dustin Davis; and many extended family and friends. She is preceded in death by her grandmother, Sherry Lee Farrell.
All services will be private.
Condolences to the family may be made at www.brinsfieldfuneral.com.
Arrangements by the Brinsfield Funeral Home, P.A.