Motorists are Reminded to be Aware in Work Zones and Comply with the "Move Over" Law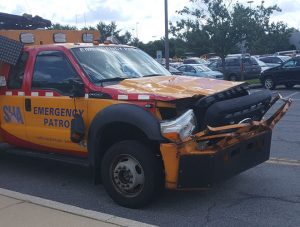 The Maryland Department of Transportation State Highway Administration (MDOT SHA) is advising motorists to plan ahead with the arrival of the Independence Day getaway weekends. The July Fourth holiday is Wednesday, so travelers will be taking routes to the Eastern Shore and other vacation spots this weekend and the following weekend in large numbers.
MDOT SHA is urging motorists to slow down and be alert as they travel through work zones during this time of increased volume on the roads. There were three separate crashes in the last week in work zones, including an incident on the Woodrow Wilson Bridge which resulted in a fatality. Driving posted speeds and avoiding distractions while transiting a work zone is the key to saving lives. Additionally, drivers are reminded to observe the Move Over law whenever they see emergency vehicles, tow trucks or work zone support equipment on the side of the road. Work zone safety is in your hands.
MDOT SHA officials highlighted the dangers today at the Statewide Operations Center with a display of two vehicles – a crash attenuator that absorbed the impact from a crash earlier this week, saving the lives of the workers on the road; and an emergency traffic patrol vehicle struck last month on I-270 while an MDOT SHA employee responded to an incident on the road.
Nearly 400 work zones across the state demonstrate that MDOT SHA is working to improve commutes, reduce congestion and improve safety. Check MDOT SHA's Road Ready electronic brochure for a list of major construction projects underway to improve travel and reduce congestion.
Just in time for summer travel, MDOT SHA will complete the upgrade and re-paving of US 113 (Worcester Highway) Friday, June 29th. This critical Eastern Shore artery will now showcase four lanes of traffic between Five Mile Branch Road and Masseys Branch (Phase 3) in Worcester County.
MDOT SHA also expects to have the final phase of widening of US 113 between MD 365 (Public Landing Road) and Five Mile Branch Road open for travelers by spring 2020. This will complete the widening of US 113 in Maryland between the Virginia and Delaware State lines.
MDOT SHA invites motorists to experience some of the major roadway improvements that are new this holiday season. MDOT SHA officially opened a fourth lane on eastbound US 50 on the Severn River Bridge in Annapolis, easing congestion heading toward the Bay Bridge. MDOT SHA also added a lane in each direction on MD 404 between US 50 and the Town of Denton, cutting congestion and improving safety and drive time to points east. Other projects include the completion of rehabilitation of 11 bridge driving surfaces on the Salisbury Bypass, a new pedestrian safety fence and resurfacing project on Coastal Highway in Ocean City and a new interchange on US 301 (Blue Star Memorial Highway) at MD 304 (Ruthsburg Road) in Queen Anne's County. Please view this video on the projects.
MDOT SHA will suspend non-emergency construction on interstates and primary routes during the July Fourth holiday (one day prior, during and one day after). Additionally, MDOT SHA will have emergency patrols out in full force on the Eastern Shore and in metro regions 24/7 to assist drivers with disabled vehicles during both weekends and the week of the holiday.
Drivers are urged to check their vehicles closely before hitting the highway: tires for proper traction and pressure and look for damage; fluid levels and top off; belts and hoses for excess wear and replace coolant hoses if there is a leak; headlights and taillights for visibility. A quick inspection of the vehicle can help reduce the likelihood of a breakdown and will help MDOT SHA keep lanes clear.
Shore-bound travelers are reminded to stay on US 50 and not turn local roads into interstates. Local roads cannot handle the volume of vehicles and will quickly gridlock residents in their neighborhoods, preventing emergency services access.
MDOT SHA offers real-time travel conditions and access to live traffic cameras on www.md511.org. The Maryland Transportation Authority (MDTA) offers a toll-free real-time Chesapeake Bay Bridge information line at 1-877-BAY-SPAN (229-7726) that offers precise wait times and other travel information.
MDTA and MDOT SHA recommend that motorists consider traveling at off-peak hours to help reduce congestion:
• Thursday, June 28 – after 10 p.m.
• Friday, June 29 – before 8 a.m. and after 10 p.m.
• Saturday, June 30 – before 6 a.m. and after 8 p.m.
• Sunday, July 1 – before 7 a.m. and after 7 p.m.
• Monday, July 2 – before 8 a.m. and after 8 p.m.
• Tuesday, July 3 – before 8 a.m. and after 8 p.m.
• Wednesday, July 4 – before 9 a.m. and after 10 p.m.
• Thursday, July 5 – before 10 a.m. and after 10 p.m.
• Friday, July 6 – before 10 a.m. and after 10 p.m.
• Saturday, July 7 – before 7 a.m. and after 5 p.m.
• Sunday, July 8 – before 10 a.m. and after 10 p.m.
MDOT SHA also provides the following tips to keep travelers safe during while traveling:
• Buckle up! It's the law. All seats, all ages, all the time – yes, even the backseat;
• Don't drive after drinking. Designate a sober driver or use a taxi or ride service;
• Park the cell phone and mobile device and pay close attention to the road ahead;
• Get plenty of rest before hitting the road; and
• Travel at the posted speed limit.
• If your vehicle becomes disabled, pull off as far as you can on the highway and call #77 or 911 for help.