Claims prize on Cash Explosion scratch-off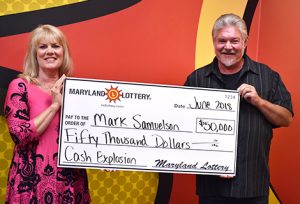 Only four years ago, Mark Samuelson of Waldorf found $50,000 worth of Maryland Lottery luck hiding in a Show Me the Money scratch-off. Good fortune just found him again! He added another $50,000 to his bank account after winning the prize playing the Cash Explosion instant ticket last Friday.
The 55-year-old avid scratch-off player recalls that it was raining on Friday when he decided to play scratch-off games. He went to Waldorf's Foods In and tried to get money out of the ATM. Alas, a message said his card had expired. Mark was determined to play.
"I remembered that I had a piece of mail at home with the new card in it," he said.
Mark returned home, fetched the new card and came back to Foods In, which is located at 12549 Mattawoman Drive. He successfully got the needed cash out of the ATM and bought his games. The Charles County resident purchased five Cash Explosion instant tickets because he had won small amounts on the game in the past. He scratched them all off and was shocked as he revealed numerous matches and money bags on one of the $20 instant tickets.
"As I scratched the prize amounts, I saw a $1,000 and I knew right away it was going to be a lot," said the winner. "When I saw the first $10,000, I knew it was really big."
Mark continued to reveal the prize amounts and needed help to tally his win!
"It was so mixed up I had to add it all up with a calculator," he said. The loyal player went back to Foods In to verify his calculations and share his happy news with the owners, who know him well. The master electrician waited patiently for his wife to come home so he could surprise her with his big news.
"I always get on him about playing," said his wife Daryl. "When he showed me (the winning scratch-off), I thought it was fake." Daryl scanned the instant ticket using the Maryland Lottery app on her phone. Seeing the winning message made her a believer.
The two have a combined family of seven children and numerous grandchildren. The prize will go toward debt, bills, home improvements and a vacation to celebrate their October wedding anniversary.