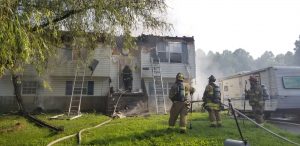 On Tuesday July 3, 2018, at approximately 4:55 p.m., Firefighters from Mechanicsville Volunteer Fire Department and surrounding companies responded to 39261 Decoy Way, and New Market Turner Road, for the reported structure fire.
Crews arrived on scene to find a two story residence with fire showing from the roof, and all four sides of the second floor.
Approximately 50 firefighters had the fire under control in approximately 25 minutes and operated on scene for approximately 2 hours.
Deputy State Fire Marshals responded out to the scene and determined the preliminary cause of the fire was improperly discarded smoking materials on the exterior deck. The estimated loss of structure is $ 125,000, with $ 50,000 in content. Smoke alarms were present and activated within the residence.
The family has been displaced and are being assisted by other family members.