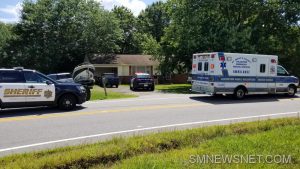 On Thursday, July 5 2018, at approximately 2:25 p.m., police, and emergency medical services personnel responded to Russell's Bar, located on Blake Creek Road, in Valley Lee, for the reported check the welfare.
Patrons in the bar called 911 after a female subject ran into the business stating she found someone dead in the house across the street.
Crews arrived on scene to confirm an adult male was deceased in the house.
Detectives from the St. Mary's County Sheriff's Office Criminal Investigations Division (CID) have responded to the scene and are conducting an investigation which is ongoing.