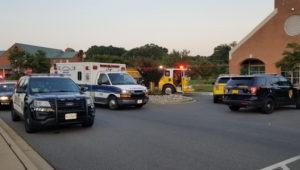 On Monday, July 2, 2018, at approximately 8:00 p.m., firefighters, police and emergency medical personnel responded to the St. Mary's County Library Lexington Park Branch for the report of an overdose.
Firefighters from Bay District Volunteer Fire Department responded from their firehouse across the street from the library and were on scene in a matter of seconds. Firefighters arrived on scene and located a 28-year-old woman, later identified as Brentanie Marie Schuhart, 28, of La Plata, lying unresponsive in a stall in the ladies bathroom.
Firefighters performed cardiopulmonary resuscitation (CPR) on Schuhart for 30 minutes and were able to get her breathing. Schuhart was also administered multiple doses of  naloxone (Narcan), and was breathing when she was loaded into an ambulance and transported to MedStar St. Mary's Hospital. CPR was started again while Schuhart was in the ambulance and enroute to the hospital. Schuhart was pronounced at the hospital, from a suspected heroin overdose.
Two firefighters were taken to to MedStar St. Mary's Hospital as a precautionary measure after they had exposure to bodily fluids from the overdose victim.