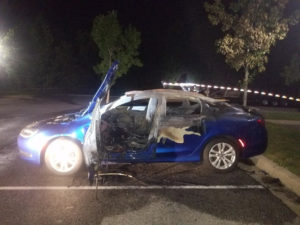 On Saturday July 7, 2018, at approximately 1:00 p.m., firefighters from Waldorf Volunteer Fire Department responded to the parking area of Westchester Square, and Aldersgate Place, in Waldorf, for the reported vehicle fire.
Crews arrived on scene to find a 2015 Chrysler Sedan with heavy fire showing from the interior.
The fire was under control within 5 minutes of crews arriving, and the estimated loss is $15,000.
The Maryland State Fire Marshall responded to the scene to investigate the cause of the fire.
The preliminary cause is determined to be incendiary and started in the interior of the vehicle.
The fire was discovered by a neighbor of the owner.
Anyone with information about this incident is asked to contact the Maryland State Fire Marshals Office Southern Region at 443-550-6835.