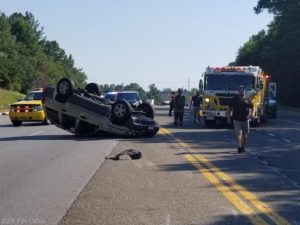 On Tuesday, July 10 2018 at approximately 4:40 p.m., police fire and rescue personnel responded to Patuxent Beach Road and Oak Road, in California for the reported serious motor vehicle accident with a subject trapped.
Crews arrived on scene to find two vehicles in the roadway with one overturned, and all occupants out of their vehicles.
Two patients were transported to an area hospital with non-life threatening injuries.
Crews operated on scene for approximately 45 minutes.
Police continue to investigate the cause of the crash.