UPDATE: 7/17/2018: On Friday, July 13, 2018, Deputy Tyler Payne of St. Mary's County Sheriff's Office responded to ABC Liquors and Lounge for Todd Matthew Evans, 41 of Glen Burnie, returning to the store after being issued a notice not to trespass.. He was arrested and charged with Trespassing on Private Property.
On Monday, July 16 2018, Deputy Sheena Tirpak issued Evans a criminal summons for Trespassing on Private Property and Consumption of Alcohol Beveridge in Public, which occurred on July, 12, 2018.
Evans posted bail after the theft charge, but is currently incarcerated at the St. Mary County Detention and Rehabilitation Center.
UPDATE: 7/12/2018: With the help of citizens who saw our article and video, Todd Matthew Evans, 41, of Glen Burnie, was identified as the person in the video stealing from ABC Liquors and Lounge.
Charges for theft are pending and a criminal summons for Evans is expected to be issued in the next few days.
Evans was also caught stealing for another liquor store and the Charlotte Hall Rite Aid.
On May 26, 2018, Dep. Carl Ball of the St. Mary's County Sheriff's Office responded to Vinos 2 Wine and Liquor in Charlotte Hall for the report of a theft.
Deputies made contact with Todd Matthew Evans, 41, of Glen Burnie. Deputies noticed several bulges in his pants legs. Due to having just been caught attempting to steal a bottle of liquor, a search located more stolen goods, totaling $58.64 from the Charlotte Hall Rite Aid.
Evans was issued two criminal citations for Theft Less than $100.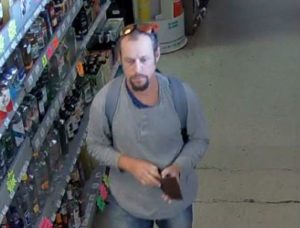 7/10/2012: On Tuesday, July 10, 2018, at approximately 9:15 a.m., a white male walked into ABC Liquors and Lounge, located on Three Notch Road, in California.
The male pictured in the photos and video below then stole a bottle of liquor by concealing it under his clothing, he exited the establishment without paying.
If you can identify the thief, please comment below, or send an email to abclounge@gmail.com.
We will update this article after an arrest is made.