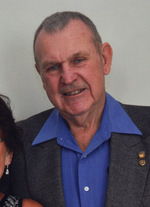 Peter Grover Hall, 72 of Saint Leonard, MD passed away on July 13, 2018. Born on August 17, 1945, he was the son of the late Fred and Beatrice Hall of Sanford, ME. He was born and raised in Sanford, ME and graduated from Sanford High School Class of 1963. Mr. Hall moved to Maryland 1980 and has resided in Saint Leonard since 1984.
Mr. Hall, a Vietnam Era Veteran, had a total of 37 years military service, both active duty and reserve. He Served in the US Navy from 1963-1969 and the US Army Reserve from 1974-2005, retiring at the rank of Major. His awards included the Meritorious Service Medal, Army Commendation Medal, Army Achievement Medal, Army Reserve Components Medal, National Defense Service Medal and Armed Forces Reserve Medal. He was a life member of the Reserve Officers Association of the United States (ROA) and a member of the Military Officers Association of America (MOAA), American Legion Post #274. Mr. Hall was avid hunter in Maryland and in Maine. He enjoyed hunting with his older brother David of Rochester, N.H. and nephew Jayson Allain of Washington, DC.
Mr. Hall retired from Constellation Energy Corporation, after 20 years of service at the Calvert Cliffs Nuclear Power Plant in Lusby, MD. Prior to that, Mr. Hall had been a Police Officer in Annapolis, MD 1980-1982 and Biddeford, ME 1968-1980 where he held the rank of Detective Sergeant. Prior to his final retirement 2007, he worked at Imagine One Technology and Management Ltd, a DoD Contractor as Supervisor for 5 years.
Mr. Hall's education included, BA in Criminal Justice, University of Sothern Maine-Portland, ME 1975, MS in Instructional & Performance Technology, Boise State University-Boise, ID 1991, Maine Military Academy 1976, Certified Training Specialist Georgetown University- Washington, DC 1989, as well as various other military and Law Enforcement Training.
He is survived by his wife, Doris Rita Hall of Saint Leonard, MD, children Sandra J. Hera of Loxahatchee, FL, Steven P. Hall of Fiskdale, MA, Brian M. Hall of Biddeford, ME, Michelle L. Lessard of Biddeford, ME, and stepdaughter Deborah L. Fabricante of Delta, PA. Siblings; David F. Hall of Rochester, NH, Jane F. Meader of Lebanon, ME, Laura R. Morin of Sanford, ME, Thomas L. Hall of Conway, SC and predeceased by his sister Constance Allain (2018). He is also survived by his loving 13 grandchildren.
The family will receive friends on July 23, 2018 from 5:00 PM to 8:00 PM in the Mattingley-Gardiner Funeral Home, 41590 Fenwick Street, Leonardtown, MD 20650. A Funeral Service will be held on July 24, 2018 at 10:00 AM in the Sacred Heart Catholic Church, 23070 Maddox Road, Bushwood, MD. Reverend Samuel Plummer will officiate. Interment will be at Charles Memorial Gardens, 26325 Point Lookout Road, Leonardtown, MD 20650.