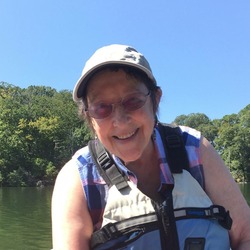 Christine Paula "Christie" Clark, 70, of St. Mary's City died July 18, 2018 of ovarian cancer, supported for two years by her loving family.
She was born in Baltimore to Katherine Singer and Walter Ralph Clark on February 19, 1948, and raised in St. Mary's County with her older sister, Lani Clark. Christie's parents greatly influenced her personality; her playful energy and sense of humor from her father and her love for cooking and travel from her mother. She attended high school in Pennsylvania at the George School, then George Washington University and St. Mary's College of Maryland. She later earned a bachelor's degree from San Francisco State College and her early childhood teaching credentials from Mills College in California after serving seven years in the Peace Corps from 1968 to 1975.
A true adventurer, and with a desire to make the world a better place, Christie and her former husband Charlie Lachman enrolled in the Peace Corps in 1968. They travelled to the South Pacific to Ponape (Pohnpei) and Sokehs Islands in Micronesia where Christie taught English and Western life skills to the children and bread baking and English to the adults. In 1971, they moved to the Micronesia district center where she worked as an aide to the Congress of Micronesia providing clerical help as they designed the future compact with the United States for a new country: the Federated States of Micronesia. Following their return to the states, Christie and her husband divorced, but remained close friends throughout her life.
In 1978, she met a fellow artist and musician Robert Hobbs with whom she lived and had more adventures with on the West Coast alongside many great friends. She was a ceramic artist, supporting herself in Berkeley, California with her art and odd jobs as she completed her education in early childhood. In 1985, she had her only child, Theodore (Teddy) Clark, who quickly became the love of her life. Christie was proud to explain how Teddy was her miracle. She taught at Berkeley Elementary School for several years before moving back to St. Mary's County in 1993 to raise her son closer to family. Christie was an incredibly loving and devoted mother who cherished the blessing of being Teddy's mother. She was an amazing role model for him and their shared adventures came to define them.
In 1998, Christie met her partner, Patrick Hillis, who has provided wonderful support for her during her illness, and while her son Teddy was growing up. Chris and Patrick enjoyed a life together simply relaxing on Lucas Cove and caring for their beloved pets over the years. She was a beloved teacher at Lexington Park Elementary School from 1993 until her retirement in 2010, where she taught Pre-Kindergarten and Kindergarten. She was known throughout the school and community, for her generous, warm nature, mischievous sense of humor, and willingness to help everyone. A very optimistic and caring person, Christie had a positive influence on her friends and on a generation of young students helping them adjust to school and learn life-long skills.
She was a lifetime member of the St. Mary's River Yacht Club. In her 60s, she earned certification as a U.S. Sailing instructor and taught youth sailing for several years in St. Inigoes. She enjoyed baking, gardening, photography, her German shepherd, Holly, and most of all, caring for and visiting her grandson, Jack. She treasured her time with Jack as she cared for him throughout his first years.
Christie is survived by her son, Theodore Keith Clark and his wife, Jevanina Amanda Schettini, their son, Jack Robert Schettini Clark, and their expected daughter, of California; her partner Patrick Raymond Hillis of St. Mary's City; her sister, Lani Clark and her husband John Paradis of St. Mary's City; many cousins; and her former husband, Charles Lachman.
Family will receive friends on Wednesday evening from 6 to 8 pm at Brinsfield Funeral Home in Leonardtown. Funeral services will be held at Trinity Episcopal Church in St. Mary's City on Thursday July 26, 2018 at 11 am. Interment will be private at a later time.
In lieu of flowers, memorial contributions may be sent to SMAWL (St. Mary's Animal Welfare League) at PO Box 1232, Leonardtown MD, 20650 or Lexington Park Elementary School, Early Childhood Education Department at 46763 S. Shangri La Drive, Lexington Park MD 20653.