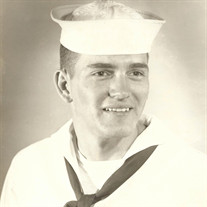 Jack Dene Salyers, 82, of La Plata, MD passed away on July 19, 2018 at his residence.
Jack was born on October 31, 1935 in Hot Spot, KY to the late Nathan J. and Audrey M. Salyers.
Jack proudly served in the United Sates Navy from 1955-1959. He was the former owner/operator of Pirates Den and La Plata Liquors. He was a member of the La Plata Lions Club and the La Plata Planning Commission. He was the boys' basketball coach at Archbishop Neale Catholic School for over 20 years and a private pilot.
Jack is survived by his wife of 58 years, Jerri Salyers; son, Jack D. Salyers II and his wife Becky; daughter, Jacqueline Salyers Martin; brother, James L. Salyers Sr. and his wife Bonnie; sister, Margaret A. Schlereth and her husband Paul; 5 grandchildren, Jackson, Savannah, Ryan, Colin and Connor; several nieces and nephews and his loving dog Jamie.
Visitation will be on Friday, July 27 from 4:00PM until time of La Plata Lions Club and Catholic Wake Services at 6:00PM at Raymond Funeral Service, 5635 Washington Ave, La Plata, MD 20646. Interment will be private.
Memorial contributions may be made to Lions Club of La Plata, P.O. Box 1228, La Plata, MD 20646.