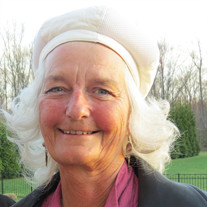 Deborah Ann "Debbie" Stergar, age 64, of Waldorf, Maryland passed away July 20, 2018 at home of natural causes.
Born May 17, 1954 in Great Falls, Montana, Debbie was the daughter of Laverne Marie Stergar and the late Lt. Col. Gene John Stergar (USAF).
She graduated from the University of Maryland School of Nursing in 1976. Through her nursing skills and compassion, Debbie spent the majority of her career caring for others. Debbie's work history includes employment with the Anne Arundel County School System and the Calvert and Charles County Health Departments. She was also a licensed sports massage therapist for special athletic events. Debbie was a 21 year Breast Cancer survivor.
In addition to her mother, Laverne Stergar, Debbie is survived by siblings, Greg Stergar (Lynn) of Lorton, Virginia; Monica Pittman of Portland, Oregon; Gary Stergar (Dori) of Richmond, Virginia; Glenn Stergar (Debbie) of Hughesville, Maryland; and nephews and nieces, Chantal Stergar, John Stergar, Jonathan Pittman, Daniel Pittman, Zackary Stergar, Jake Stergar, Cassie Stergar, Jesse Stergar, Kaitlyn Stergar, Kristin Stergar. Debbie is also survived by many relatives and extended family members from Montana and the West Coast.
Debbie loved traveling, gardening, cooking, and watching old movies. Most of all, she enjoyed spending time with family and friends.
Family and friends will be received on Thursday, August 2, 2018 from 12:00pm until time of Mass of Christian Burial at 1:00 pm at St. Peter's Catholic Church, 3320 Saint Peters Drive, Waldorf, Maryland 20601. Interment will be private.