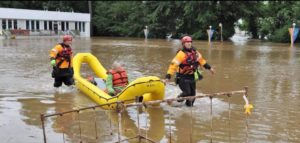 On Tuesday, July 24, 2018 at approximately 2:15 p.m., the Deputies from the St. Mary's County Sheriff's Office, firefighters from the Mechanicsville and Leonardtown Volunteer Fire Departments and Leonardtown Volunteer Rescue Squad responded to 26005 Point Lookout Road, in Leonardtown, to assist two citizens at the Craft Guild Shop reported to be stuck in the business due to the area flooding.
Two women, Peg Gowen, of Leonardtown and July Dillon, of Hollywood were moving merchandise at the craft co-op's store out of the way of rising waters when floodwaters rose up behind them and inundated the parking lot.
One of them were able to walk to safety however the other required transporting by the raft to dry land.
Both women were retrieved and delivered to dry land without incident and neither required medical attention.