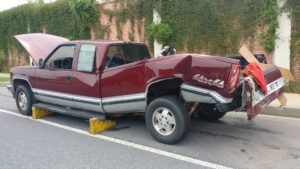 On Wednesday, July 25, 2018, at approximately 2:35 p.m., police fire and rescue responded to Chancellors Run Road and Norris Road, for the report of a motor vehicle accident.
Crews arrived on scene to find a Ford Expedition off the roadway and a Chevy Pick-up truck in the road involved in a rear-end style collision.
One patient was transported to an area hospital with minor injuries, one patient signed patient care refusal forms on the scene.
Multiple witnesses at the scene stated that the male driver of the Ford Expedition fled the scene on foot. He was described as a black male, wearing a black shirt and blue jeans. Police recovered multiple pieces of evidence on the scene from the at fault vehicle.
St. Mary's County Sheriffs Office is currently investigating the crash and updates will be provided when they become available.