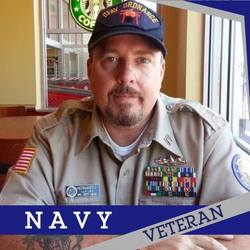 Christopher Anthony Hernandez, 55, of Lexington Park, MD passed away on July 23, 2018 at his residence.
Christopher was born on April 23, 1963 in New York, New York to the late Galo Hernandez II and Liz Sanchez of Albany, New York.
Christopher married his loving wife Rachel Ando Hernandez on December 1, 1984, in lovely San Diego, California. They have one beautiful daughter KT Hernandez.
He enlisted in the Navy right after he turned 17 and proudly served his country for 24 years before retiring as a Lieutenant. While in the Navy he was stationed in many different locations. His first duty station was in Charleston, South Carolina. His longest duty station was in Yokosuka, Japan where he spent a total of 12 years. His last stop was in Dahlgren, Virginia and from there he moved to his final home of Lexington Park, Maryland.
Christopher enjoyed working on cars, and was a long standing member of the SOMD Camaro Club. He was the former HOA Chairman/President of Greenbrier. Christopher found so much satisfaction in giving back to his fellow man and community by volunteering for different organizations such as Christmas in April, and had even worked with the Special Olympics since 1987. He was also part of the many disaster relief teams the Red Cross had sent up to New Orleans, Louisiana when Hurricane Katrina had landed.
When he wasn't helping out in his community he was known to his family as their very own internet chef. He enjoyed trying to recreate recipes he had discovered via YouTube. His specialties being seafood and grilling/BBQ. He was very good at barbequing and it will be greatly missed.
Christopher is survived by his wife and daughter. He has two brothers Galo Hernandez III (Francis) of Thomaston, ME, Mark Hernandez of Albany, New York and a sister Ivy Finn (Keith) of Vernon, New Jersey. He is also survived by his nieces, nephews, and cousins.
Family will receive friends for Christopher's Life Celebration Visitation on Thursday, August 7th from 5 until 8 at Brinsfield Funeral Home, 22955 Hollywood Road, Leonardtown, MD 20650.
Interment will take place at Arlington National Cemetery at a later date.
Condolences to the family may be made at www.brinsfieldfuneral.com.
Arrangements by the Brinsfield Funeral Home, P.A.