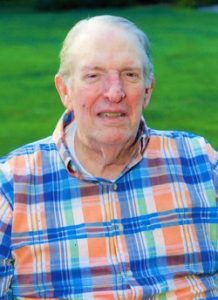 Robert "Bob" David Owen, 72, died on July 24, 2018, at his home in Great Mills, Maryland.
He was born on August 29, 1945, in Redlands, California, to the late Jack Edward and Mary Cochran Owen.
While attending the University of Missouri, Bob enlisted in the Naval Reserves. He also met his wife Carolyn. Carolyn followed Bob to California where he finished his degree at the California State University – Fullerton. Upon graduation, Bob and Carolyn got married and quickly moved to Newport Rhode Island where Bob attended Officer Candidate School.
Bob served 23 years in the United States Navy. He and Carolyn lived in California, Hawaii, Florida, and Virginia. His last ship was the battleship USS Iowa, in which he participated in the recommissioning of in 1984. He retired in 1988 and went to work for several government contractors and ultimately moved to Great Mills, Maryland from Springfield, Virginia in 1997.
Bob was very active in giving back to his community. He was president of Kiwanis Club of St. Mary's County multiple times and Lt. Governor for one term; a member of the Elks Lodge 2092 and the Disabled American Veterans (DAV). He and his wife, Carolyn, were very involved in St. Mary's Genealogical Society and he served as the president of the club. He participated in a mentoring program at a local grade school helping children to read and do homework. He was an avid train collector.
He is survived by his wife of 49 years, Carolyn; daughter, Kimberly Owen, and son, Bradley and his wife, Patricia Owen; sister, Donna Owen Manchester, and Carl Manchester; nieces and nephews, Becky Wilson Karamales, Norman Karamales, Laura Wilson Masling, Will and Chandra Manchester.
Services will be held at Brinsfield Funeral Home, 22955 Hollywood Road, in Leonardtown, Maryland 20650 on August 4, 2018 at 2 pm. In lieu of flowers, please send donations to Kiwanis Club of Waldorf, Maryland, Foundation, Inc.: P.O. Box 723, Waldorf, MD 20604 or Disabled American Veterans (DAV): P.O. Box 788, Hollywood, MD 20636 or Feral Cat Rescue of So. MD: P.O. Box 623 Great Mills, MD 20634.
Condolences to the family may be made at www.brinsfieldfuneral.com.
Arrangements by the Brinsfield Funeral Home, P.A.