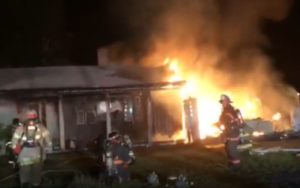 On Monday, July 30, 2018, at approximately 10:15 p.m., firefighters from the Hughesville Volunteer Fire Department and the surrounding area responded to 6150 Nubian Place, in Hughesville for the report of a house fire.
Firefighters arrived on scene and discovered heavy fire and smoke coming from the one story single family home with attached covered carport.
The homeowner was in his living room when he smelled smoke and went to investigate. Upon looking out of his kitchen door leading to the carport, he encountered flames and smoke. The homeowner was able to escape safely and is being assisted by the American Red Cross.
No injuries were reported and the total loss to the structure and contents was estimated at $110,000.
It took just over 25 minutes to bring the fire under control and approximately 60 firefighters responded.
The Office of the State Fire Marshal responded and determined the fire had originated at the covered carport and was accidental.
Video Courtesy of Chris W Garrett