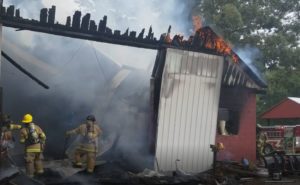 On Friday, August 3, 2018, at approximately 2:40 p.m., Firefighters from Valley Lee, Leonardtown, Bay District, Hollywood, and Mechanicsville Volunteer Fire Departments responded to 44500 Hawks Nest Farm Road, in Leonardtown, for the reported structure fire.
Crews arrived on scene to find a 1-story warehouse workshop with fire showing. While making an interior attack on the fire, crews discovered multiple pressure filled tanks with unknown hazardous materials, along with holes in the floor, and had to evacuate the structure for their safety.
After approximately 40 minutes, the fire was contained and extinguished.
No injuries were reported.
The Maryland State Fire Marshal responded to the scene to investigate the cause and updates will be provided when they become available.