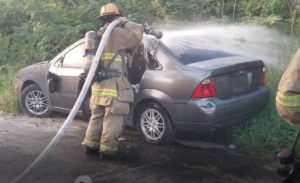 On Wednesday, August 8, 2018, at approximately 7:10 p.m., firefighters from Bay District Volunteer Fire Department responded to North Essex Drive in the area of Hancock Road, for the reported vehicle fire.
Crews arrived on scene to find a Ford Focus with light smoke coming from the back seat, the fire was extinguished by citizens in the area.
St. Mary's County Sheriffs Office and the Maryland State Fire Marshal responded to the scene to investigate the cause of the fire.
Witnesses on the scene reported children were playing around the vehicle and started the fire before fleeing the scene prior to the arrival of police.