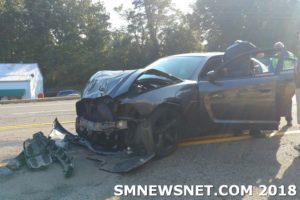 On Wednesday, August 29, 2018, at approximately 5:00 p.m., police fire and rescue personnel responded to Three Notch Road, in the area of Great Mills Road, in Lexington Park, for the reported motor vehicle accident.
Crews arrived on scene to find a Ford pickup truck, and a Dodge Charger in the roadway involved a t-bone style collision with one subject trapped.
The male driver, single occupant of the Ford pickup truck was extricated in approximately 5 minutes and was transported to an area hospital with non-life threatening injuries, the single female occupant and driver of the Dodge Charger signed patient care refusal forms on the scene.
Witnesses reported the male driver had just picked his truck up from Auto Pro (formerly Mark's Automotive), and pulled out of the driveway onto Route 235 in front of the Dodge Charger.
St. Mary's County Sheriff's Office continues to investigate the crash, and updates will be provided when they become available.