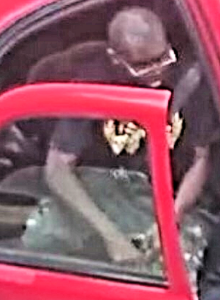 The St. Mary's County Sheriff's Office is seeking the identity of the person pictured for illegal dumping.
On Wednesday, August 15, 2018 at approximately 7:40 p.m., the suspect filled the victim's dumpster with a truckload of trash and refuse. The dumpster was located to the rear of 44098 Airport View Drive in Hollywood.
Due to the overwhelming smell and the fullness of the dumpster, the victim had to incur expenses for extra hauling service.
Anyone with information about the identity of the suspect or this incident is asked to call Dep. Richard Forbes at 301-475-4200, ext. *8048 or email Richard.Forbes@stmarysmd.com. CASE# 43888-18