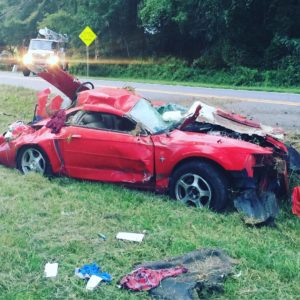 On Thursday, August 30, 2018, at approximately 7:00 p.m., police fire and rescue personnel responded to the area of Chaptico Road and Doctor Johnson Road, in Mechanicsville, for the reported serious motor vehicle accident.
Crews arrived on scene to find an older model Ford Mustang off the roadway and into a utility pole, multiple witnesses reported the single driver/occupant described as a white male with a dark colored shirt, running away from the scene into nearby woods. Witnesses said he appeared to have serious injuries.
After approximately 10 minutes the subject was found nearby in the woods, and he was transported by Maryland State Police Helicopter Trooper 7 to an area trauma center life-threatening injuries.
St. Mary's County Sheriff's Office is currently investigating the cause of the crash.
Speed and alcohol appear to be contributing factors, and updates will be provided when they become available.
All photos are courtesy of Mechanicsville Volunteer Fire Department.