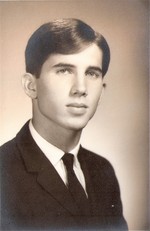 Charles Eugene "Gene" Potts, 68, of Leonardtown, MD passed away on August 26, 2018 in Callaway, MD. He was born on June 1, 1950 in Prince George's County, MD and was the son of the late Margaret Elizabeth Mattingly Potts, and Francis Marion Potts. Gene is survived by his siblings; Fran Conway (Pat) of Silver Spring, MD, Richard Potts (Barbara) of Hollywood, SC, Jo Ann Potts of Leonardtown, MD, and Jerry Potts (Maria) of Rockville, MD. As well as a host of loving nieces and nephews. He was proceeded in death by his sister Terry Potts. Gene graduated from Gwynn Park High School in 1968, and attended the Univ. of Maryland. He moved from Prince George's County, MD to St. Mary's County, MD in 1975.
Gene was involved in social work assisting people with disabilities. He enjoyed reading, movies, and music in particular blues festivals.
The family will receive friends on Wednesday, August 29, 2018 from 11:00 AM to 1:00 PM in the Mattingley-Gardiner Funeral Home, Leonardtown, MD.
Contributions may be made to Hospice House of St. Mary's P.O. Box 625 Leonardtown, MD 20650 or charity of choice.