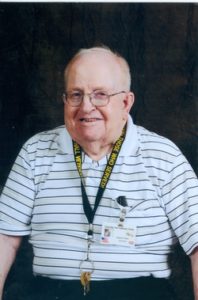 Robert Lawrence Pride, 84, of Leonardtown, MD passed away on August 25, 2018 in Charlotte Hall, MD. He was born in Frankfort, IN on February 17, 1934 to the late Howard Pride and the late Ivory (Susie) Randolph. Robert enjoyed fishing, hunting, and horseback riding. Robert joined the U.S. Navy in Washington, D. C., in December 1953 and worked as an Aviation Structural Mechanic with the Department of Defense. He served in Japan, California, and Texas and in 1970, he moved to Valley Lee, Maryland finishing his service at Pax River Base until his retirement on August 1, 1983. He continued working at Pax River for Dyna Corp until 2002.
In addition to his parents, Robert was predeceased by his wife, Eiko Pride, (Nov. 2001), who he married in Japan in 1963; his father Howard Pride and Susie Randolph and his step mother, Eunice Pride: siblings, Rex Pride, Sharon Pride Floyd, and Phyllis Emery Perotta. He is survived by his brother, Howard Keith Pride of Arlington, Texas, sister Kay Manesh and a hosts of nieces and nephews and other family members in Maryland, Indiana, and Texas.
Robert will be inurned at Arlington National Cemetery with his wife, at a date to be determined by Arlington.
Condolences to the family may be made at www.brinsfieldfuneral.com
Arrangements by the Brinsfield Funeral Home, P.A.