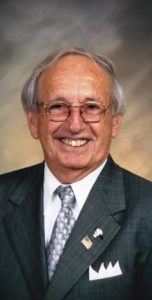 Charles William "Dickie" Pitcher, Sr. 87 of Port Republic, MD and formerly of Island Creek, MD, passed away on August 29, 2018 at his residence.
Born December 8, 1930 in Island Creek, MD, he was the son of the late Elmer J. Pitcher and Isabel Emma (Wagner) Pitcher.
Dickie served as a Sergeant in the U.S. Army from March 20, 1950 until March 28, 1953. He served in Germany in the 18th Infantry 1st Division and was awarded the Occupational Medal for service in Korea. Dickie was a supervisor for C&P Telephone Company for thirty two years, retiring in 1985 and a Funeral Assistant for Rausch Funeral Home starting in 1985. He was a founding charter member of the Optimist Club from 1968 until present, serving as President and Lt. Governor and was a member of the Beltel Retirees. Dickie was a member of the Democratic Central Committee from 1974 until 1986 and a member of the Governor's Committee for Hiring the Handicapped. He served as Judge of the Orphans Court from 1986 until 1999. Mr. Pitcher was a lifelong member of Waters Memorial UMC.
Dickie was preceded in death on January 30, 2006 by his wife, Rose Marie (Rawlings) Pitcher whom he married on April 23, 1955 in Prince Frederick, MD. He was also preceded in death by his siblings, Hazel Wertz, Mary Maude Pitcher, Elmer J. Pitcher, Jameson L. Pitcher, Marie A. Pitcher, James E. Pitcher and W. Ross Pitcher.
Dickie is survived by his children, Charles William Pitcher, Jr. (Tony Fiore) of Silver Spring, MD and Pamela Gale Matteson (Robert) of Port Republic, MD; five grandchildren; Dawn Keen (Clate), Skip Pitcher, Christina Colfer-Pitcher (Jason), Cortney Pitcher and Mike Matteson (Jessie); six great-grandchildren; and siblings, Violet Mae Weems of Glen Burnie, MD and Catherine Humphries of Port Republic, MD.
Family will receive friends on Tuesday, September 4, 2018 from 2:00 p.m. until 4:00 p.m. and 6:00 p.m. until 8:00 p.m. at Waters Memorial United Methodist Church, 5400 Mackall Road, St. Leonard, MD 20685 where a funeral service will be conducted by Rev. Brian Berger on Wednesday, September 5, 2018 at 11:00 a.m. Interment will follow in the church cemetery.
Serving as pallbearers will be Marty Pitcher, Bobby Pitcher, Stanley Pitcher, David Pitcher, Carl Pitcher, and Bill Wertz. Honorary pallbearers will be Eddie Bowen, Bobby Chaney and Sherwood Willoughby.
Memorial contributions may be made to Waters Memorial United Methodist Church, 5400 Mackall Road, St. Leonard, MD 20685