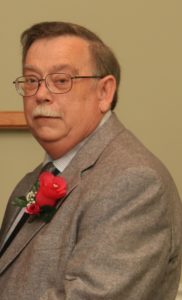 Bradley Allen Shefka, 64, of Owings passed away at his residence on August 18, 2018. He was born in Detroit, Michigan on November 8, 1953 to Skinder and Janet (Hanson) Shefka. Brad was raised in Detroit where he attended Frank Cody High School. He attended the Ohio Institute of Technology and married Catherine Houston on June 17, 1972, who preceded him in death in 2012. He married Deborah Holloway on June 20, 2017.
He enlisted in the United States Coast Guard and served for 17 years. As an enlisted person he achieved the rank of Chief Petty Officer. While serving he attended Old Dominion University graduating with an engineering degree. After attending officer candidate school, he received his commission as a Coast Guard officer. During his career he served on a Coast Guard icebreaker and on the US Coast Guard Cutter JARVIS (WHEC-725). He ended his military career at the rank of Lieutenant. His decorations included National Defense Service Medal, Humanitarian Service Medal, Coast Guard Meritorious Unit Commendation Ribbon, Good Conduct Ribbon w/2 Bronze Stars, and Sea Service Ribbon, and the Commandants Letter of Commendation w/Gold Star.
Following his military service, Brad worked in the Information System Security branch at the Federal Aviation Agency. When the Department of Homeland Security was formed in 2003, he transferred to it and assisted with standing up the new agency. He ended his civil service career working as the Chief of the GAO/OIG Liaison office for the Federal Emergency Management Agency.
In his free time, Brad enjoyed working on cars and computers, camping in his RV, and spending time with his family and friends. He was a member of the American Legion Stallings-Williams Post 206 and for the past 2 years, he has coached FLL Robotics teams with his wife at Central Middle School in Edgewater.
Brad is survived by his wife, Deborah; his three sisters, Janine Shefka (Genevieve duMaurier) of Detroit, Michigan; Lori Lockwood (Gary) of Eau Claire, Wisconsin; and Karla Shefka (Patricia Delage) of Sanger, California; and his three daughters, Janet Dick (Kevin) of Dunkirk, Erin Crain (Kevin) of Chesapeake Beach, and Leslie Shefka (Jerry Dunavant) of Chesapeake Beach. He will be fondly remembered as "Poppy" by his 9 grandchildren, Kayla, Mazzy, Brooke, Keaton, Jake, Korbin, Steven, Kellum, and Catherine, and one great-grandchild SJ.