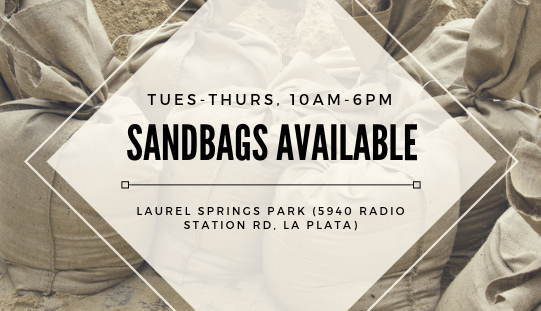 Due to the National Weather Service forecast for heavy rain and flooding, the Charles County Department of Emergency Services is providing sandbags to county residents who need them to protect property. Sandbags and sand will be available Tuesday, Sept. 11 through Thursday, Sept. 13 from 10 a.m. to 6 p.m.
Residents can pick up and fill their sandbags at the first parking lot at Laurel Springs Park (5940 Radio Station Rd, La Plata).
There is a limit of 10 bags per person. Residents should bring a shovel to fill the bags. No shovels or other tools will be provided. Please be prepared to provide proof of county residency.
Get the latest Charles County severe weather updates:
Charles County Government website: www.CharlesCountyMD.gov
Facebook: www.Facebook.com/CharlesCounty
Twitter: www.Twitter.com/CharlesCoMD
Charles County Government Television (CCGTV): Comcast channel 95 or Verizon channel 10
SMECO Power Outage Map: stormcenter.smeco.coop (Call 877-747-6326 to report an outage.)