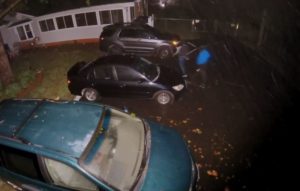 On Tuesday, September 11, 2018 during the early morning hours, several people called 9-1-1 to report two subjects attempting to break into cars in the Bancroft and Eutaw Forest neighborhoods in Charles County.
Officers responded but did not locate anyone. This is the only video they have at this point.
One of the suspects is wearing a bright blue jacket and the other is wearing a dark jacket.
This is a reminder of why it's important to remove valuables from your vehicle when leaving it unattended, especially during the overnight hours.
Anyone with information about the suspects is asked to call Charles County Crime Solvers at 1-866-411-TIPS. We thank the residents for calling 9-1-1 right away to report the suspicious activity and we believe their calls prevented the thefts. Note: In this video, the suspects simply looked inside the black passenger car and the gray SUV.