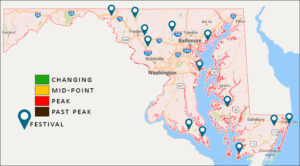 Welcome to the Fall Foliage and Festival Report for Sept. 24, brought to you by the Maryland Department of Natural Resources.
Soon the landscape will explode with vibrant colors of orange, red and yellow. Kids will be jumping into leaf piles you just raked and we'll all "fall" back, setting clocks back an hour and grabbing that extra bit of sleep.
Having sweated our way through a typically hot and humid Maryland summer – exceptionally wet as well – you might be looking forward to the autumnal equinox (also called the September equinox) happening Saturday at exactly 9:54 p.m. This is also the best time to view Mars as the planet will be at its brightest. Join the Westminster Astronomy Club at Cunningham Falls State Park Saturday night to see the stars!
Sign up to receive weekly reports showcasing the Old Line State's vibrant fall foliage and the best autumn festivals at dnr.maryland.gov.
The most obvious indicator of autumn's arrival, the changing of the foliage, is still a few weeks away for most of the state; however, in Western Maryland, pockets are starting to show splotches of brilliant color. Reports from Garrett, Allegany, Washington and Frederick counties indicate color change is just beginning at the higher levels, with patches of bold reds and oranges on maples…just a preview of the natural show to come.
Traditionally it is the region where leaf color changes first, with Garrett County's foliage beginning to turn around the end of September and peaking toward the middle of October.
The shorter, cooler days that accompany these spectacular seasonal changes offer the perfect opportunity for everyone to go outside and experience some of our state's exciting fall activities and festivals.
National Hunting and Fishing Day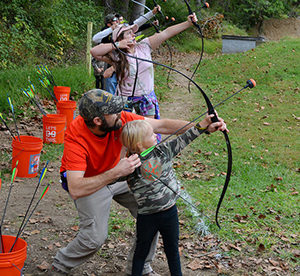 While seasons do not always begin and end on time and the change to fall foliage is still a few weeks away, this is a perfect weekend to experience exciting fall festivals and events.
Anglers, conservationists, hunters and others interested in the great outdoors are invited to Maryland's celebration of National Hunting and Fishing Day 10 a.m. to 4 p.m. Saturday. Held at the Izaak Walton League of America in Washington County, this is a free, family-friendly event.
While in Western Maryland, check out The Great Frederick Fair, now through Sunday. Visit the carnival midway, take in nightly grandstand entertainment and see award-winning agricultural exhibits.
The Eastern Shore will be hopping this weekend.
Now through Sunday at the Inlet Parking Lot, the very popular Ocean City Sunfest 2018 brings family fun-filled days with music, food, arts and crafts. Entertainment is free (except headline acts). In nearby Berlin enjoy fiddle, banjo, guitar, mandolin and bluegrass band competitions at the Berlin Fiddler's Convention, with free live bluegrass music on Main Street from 11 a.m. to 6 p.m.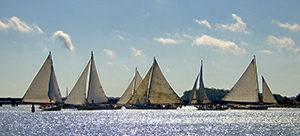 In Dorchester County, Cambridge will host the Choptank Heritage Skipjack Race Saturday (parade at 9 a.m., race at 10 a.m.). Everyone is invited to see these historic boats. On Saturday evening in Somerset County enjoy live music, fun, food, good people and Plein Air Painting on the shores of Chesapeake Bay at the Crisfield 4th Saturday Bay Stroll.
Not to be outdone in Southern Maryland, the St. Mary's County Fair celebrates rural and agricultural heritage at the ever-popular fairgrounds now through Sunday. Exhibits, livestock, home arts, flowers, 4-H exhibits, horse pulls, carnival and local foods will on be on display in Leonardtown.
On Saturday, "Wade-In for Clean Water" with former State Senator Bernie Fowler at the Historic St. Mary's City Riverfest. Learn ways to protect our waterways and enjoy free live music, environmental and children's activities, kayaking and more.
In Anne Arundel County, the Classic Wooden Sailboat Rendezvous & Race comes to the National Sailing Hall of Fame in Annapolis. Among the attractions are a remote-controlled model sailboat race, talks and a chance to board some of the boats. The race begins at 11 a.m. Sunday.
Join a Patuxent River State Park ranger Saturday morning for Bird Walk to search for and learn about birds. Bring along a pair of binoculars and identification guide if you have them. Hang around the park to Meet the Reptiles at 1 p.m.
Enjoy watching the initial flight of freshly emerged monarch butterflies at the Monarch Butterfly Release 1 to 3 p.m. Saturday in the Hammerman Area of Gunpowder Falls State Park. Visitors will be able to hold butterflies and take photos with them before they fly away. A naturalist will discuss the monarch life cycle as well as their migration and more.
Butterfly tagging will be demonstrated at Point Lookout State Park at the southernmost tip of St. Mary's County Saturday afternoon (meet near the Lighthouse).
On Sunday morning enjoy a Wildflower Walk at Soldiers Delight Natural Environment Area in Owings Mills (Baltimore County). Have you ever noticed that the landscape and plants look different at Soldiers Delight? Join a naturalist on a 2-mile hike along the Serpentine Trail to learn about the ecosystem and its native wildflowers. And don't miss a Sunday afternoon discussion with our fascinating avian educators during Feathered Friends. Come with lots of questions!
For more information or to see a full listing of Maryland Department of Natural Resources events and programs, please check out our online calendar. Enjoy your first fall weekend, Maryland!
"Autumn has caught us in our summer wear."
– Philip Larkin, British poet (1922–86)
Monarch Migrations

Well, it's that time of year again here. Time to migrate! When you hear the word migrate, you probably think of birds, or maybe even fish, and you are correct. But did you know that Monarch Butterflies also migrate? The Monarch Butterflies that you are seeing here in Maryland during the late summer and early fall will spend their winter in Mexico! But how or why? Learn more here.