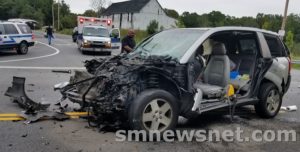 On Thursday, September 27, 2018 at approximately 1:40 p.m., police fire and rescue personnel responded to Willows Road, and Point Lookout Road in Park Hall, for the reported serious motor vehicle with a subject trapped.
Crews arrived on scene to find two vehicles involved in a motor vehicle collision with the female occupant of a Saturn SUV trapped, and the male occupant of a Ford E-Series van out of his vehicle and sitting on the grass.
The single female occupant and operator of the Saturn SUV was transported by Maryland State Police Helicopter Trooper 7 to an area trauma center with serious injuries. The single male occupant and operator of the van signed patient care refusal forms on the scene.
Witnesses reported the female occupant in the SUV was traveling on Willows Road heading towards Point Lookout Road, when she failed to stop for the posted stop sign, and continued onto Point Lookout Road and struck the Ford van that was traveling northbound on Point Lookout Road.
St. Mary's County Sheriffs Office is currently handling the investigating, and updates will be provided when they become available.