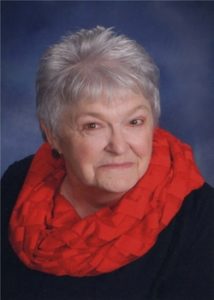 Patricia Kronk Buckley, 76, of Leonardtown, MD passed away peacefully at her home surrounded by her loving family.
She was born on February 22, 1942 in Waynesburg, PA to the late Kenneth K. Kronk and Pauline Block Kronk.
On June 3, 1961, she married James Merle Walters (divorced) of Rices Landing, PA. Together they had 3 daughters and finished raising her 2 brothers Ron and Jack Kronk. On July 29, 1977, she married her husband, Joseph Lawrence Buckley, at Andrews Air Force Base. They were married for 19 years before his passing in 1996. She was employed as an administrative assistant for the Natural History Museum in Washington D.C. until her retirement in 2002. She loved to travel. Her adventures included trips to Rome, France, China, Poland and The Holy Lands where she was baptized in the Dead Sea. She was very proud of her polish heritage and took many trips to Poland to visit her relatives. Her family lovingly nicknamed her Bob, which is short for babcia (bob-cha), polish grandmother.
She had a love for reading, history, theatre and arts. "Shakespeare" and live productions at Sight and Sound Theatre were a couple of her favorites. She also really enjoyed shopping and buying gifts for family and friends. If she heard of a need somewhere, she was ready to go shopping to meet it. She was an avid reader of the Washington Post and liked to engage in conversation about politics and current events. Her greatest love of all was for her 3 daughters, 6 grandchildren and 3 great grandchildren. She was a long time member of the Lexington Park United Methodist Church where she enjoyed worshipping and fellowship with her church family.
Bob is survived by her daughters, Kim Swann (Freddie) of Leonardtown, MD and Maggie Williford (Guy) of Park Hall, MD; her siblings: Margot Kopff (Fred) of St. Petersburg, FL, Ron Kronk of Deale, MD, and Jack Kronk of Denver, CO; her grandchildren: Nick Fieni, James Fieni, Chris Swann (Jen), Angie Insley (Bunk), Daniel Williford, and Ashley Williford; her great grandchildren: Fiona, Avery and Caden Insley; and many extended family and friends. In addition to her parents and husband, she is also preceded in death by her daughter, Karen Walters.
Family will receive friends on Sunday, September 30, 2018 from 1:00 p.m. to 3:00 p.m., with a prayer service at 3:00 p.m., at Brinsfield Funeral Home, P.A., 22955 Hollywood Road, Leonardtown, MD 20650. A Funeral Service will be conducted by Pastor Lori Hayes on October 1, 2018 at 11:00 a.m. at Lexington Park United Methodist Church, 21760 Great Mills Road, Lexington Park, MD 20653. Interment will be held on Friday, October 5, 2018 at 10:15 a.m. at Maryland Veterans Cemetery, 11301 Crain Highway, Cheltenham, MD 20623.
Memorial contributions may be made to the Leonardtown Volunteer Rescue Squad, P.O. Box 299, Leonardtown, MD 20650 and the Well Pet Clinic, 21800 North Shangri La Drive, Unit 16, Lexington Park, MD 20653.
Condolences to the family may be made at www.brinsfieldfuneral.com. Arrangements by the Brinsfield Funeral Home of Leonardtown, MD.