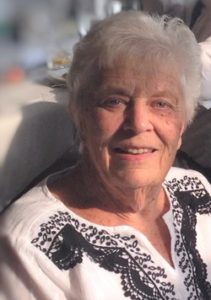 Margaret Richardson Wernecke, 85, of Leonardtown, MD, passed away peacefully with her family beside her on September 21, 2018.
She is survived by her son Ray and his wife, Helen; son David and his wife, Amy; grandchildren Kate, John, Sam, and Jake; and great grandson, Ace. Family was number one for Marge.
Born on June 8, 1933 in Baltimore, MD to John Richardson and Margaret Richardson (Borgerding), the youngest of four sisters. She was baptized into the faith on July 2, 1933. Marge graduated in 1951 from Dundalk High School and from the University of Maryland Nursing School in 1954. She then served as a nurse in the United States Air Force. She married Richard "Dick" Wernecke on September 19, 1959, who preceded her in death in 1991. Marge and Dick focused their love and attention on raising their two boys. In 1975, Marge courageously returned to school and earned a bachelor's degree in anthropology from St. Mary's College of Maryland. She would later earn a master's degree in education from George Washington University and was especially proud of her 4.0 GPA attained in all secondary coursework (a trait not passed down to her sons). From 1975 until her retirement in 1986, Marge led the nursing program at the St. Mary's Technical Center. Her mentorship of the next generation of compassionate, professional caregivers has carried on well after her retirement.
Capturing the breadth of Marge's spirit is difficult, though three themes emerge: Caregiver, Competitor and Christian. Marge was an ever-present friend to those in her extended sphere. She always "showed up." She was proud of breaking 100 in golf, earning Life Master Level in Bridge, and drubbing all comers in every imaginable card or word game. Marge's faith journey, driven by curiosity and a firm love of Jesus, is an enduring model for all and leaves her friends and family in the full knowledge that Marge is with the Saints in Heaven.
Her grandchildren will all miss her talks, her watchful eye, her 'way to go!' fists in the air, millions of questions about life, nights of Jeopardy, Sunday mornings at the end of the church pew, and her unconditional love.
The family will receive friends on Friday, September 28, at 9 a.m. and the life celebration service will follow at 11 a.m. at Trinity Lutheran Church, 46707 S. Shangri-La Dr., Lexington Park, MD 20653. Memorial contributions in her name are asked to Hospice of St. Mary's, P.O. Box 625 Leonardtown, MD 20650.
Condolences to the family may be made at www.brinsfieldfuneral.com.
Arrangements by the Brinsfield Funeral Home, P.A.