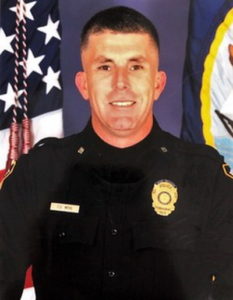 Troy David Mehl, 44, of Valley Lee, MD passed away suddenly on Wednesday, September 26, 2018.
He was born on November 29, 1973 in Midland, MI to Rickey Alan Mehl of Wolverine, MI and Peggy Grace Bohnhoff Nosek of Great Mills, MD.
Troy is a 1993 graduate of Great Mills High School. He enlisted in the United States Marine Corp in 1993 and proudly served his country until his Honorable Discharge in 1997. During his service he earned the National Defense Service Medal, Sea Service Deployment Ribbon, Armed Forces Services Medal (Bosnia), Meritorious Unit Commendation, Rifle Expert Badge (2) and Pistol Expert Badge (2). He was employed as a Corporal police officer for the Department of Defense, Department of the Navy, Naval District Washington, NAS Patuxent River Police Department for over 16 dedicated years. On April 30, 2016 he married his beloved wife, Kristen Jaharias on St. George's Island.
He was an avid fan of the Washington Redskins, Detroit Tigers and Maryland Terrapins. He was an excellent hunter and recently enjoyed bow hunting. His other hobbies included keeping fit, mountain biking and fantasy football. He was a gifted artist and skilled builder. He was adamant that Christian Bale was the best Batman. He would light up the room with his personality and made everyone laugh. He loved animals and had three German Shepherds. He enjoyed a vacation to Italy to witness the birth of his daughter. His family was his greatest love, especially his daughters whom he loved to spend his time with.
In addition to his parents and wife, Troy is also survived by his daughters, Dyllan Thomas and Jacklyn Mehl of Valley Lee, MD; his siblings: Bill Mehl (Elizabeth) of Great Mills, MD; Sam Nosek (Kimberly) of California, MD, Nick Mehl (Sue) of Essexville, MI, Chad Mehl of Essexville, MI, Terri DeShon (Greg) of Galesburg, MI, Tyson Bitzer (Estee) of Caro, MI and Dana Fuerst (Todd) of Midland, MI; his step-mother, Rona Mehl of Wolverine, MI; his grandmother, Bonna Southgate; and many nieces, nephews, cousins and extended family and friends. He is preceded in death by his step-father, Lawrence Thomas Nosek; siblings, Nathan & Melissa Nosek; grandparents: Bob & Elaine Bohnhoff, Christian & Alice Mehl, and Bill & Taimi Nosek; and his grandfather, Volney Southgate.
Family will receive friends on Wednesday, October 3, 2018 from 5:00 to 8:00 p.m., with a Prayer Service at 7:00 p.m., at Brinsfield Funeral Home, 22955 Hollywood Road, Leonardtown, MD 20650. A Graveside Service with Military Honors will be held on Thursday, October 4, 2018 at 2:00 p.m., at Charles Memorial Gardens, 26325 Point Lookout Road, Leonardtown, MD 20650.
Memorial contributions may be made to VSCOA (Veteran Support Centers of America) PAWS, 22121 Royal Oak Road, Quantico, MD 21856; Marine Toys for Tots Foundation, Attention: Vice President, Marketing & Development, 18251 Quantico Gateway Drive, Triangle, VA 22171 (St. Mary's County, MD on the Memo Line) or online at www.toysfortots.org.
Condolences to the family may be made at www.brinsfieldfuneral.com.
Arrangements by the Brinsfield Funeral Home, P.A.