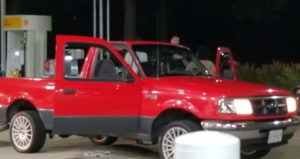 The St. Mary's County Sheriff's Office Criminal Investigations Division is investigating two separate shootings in the Lexington Park area, which occurred on Saturday, Oct. 6, 2018, and Sunday, Oct. 7, 2018.
Two victims were traveling on North Shangri-La Drive near Three Notch Road in a red Ford Ranger when the occupants in another vehicle fired several shots at them on Oct. 6, 2018 at around 11:20 p.m..
The victims continued driving to the Pegg Road Shell Station and called police.
The same two victims were driving in a different vehicle a few hours later when the occupants in another vehicle shot at them at the intersection of Pleasant Drive and Esquire Drive in Lexington Park, that shooting occurred on October 7, 2018 at around 2:07 a.m.
The Criminal Investigations Division is actively investigating the shootings.
Anyone with further information about this case is asked to contact Detective Cpl. Austin Schultz at 301-475-4200, ext. *1953 or email Austin.Schultz@stmarysmd.com.