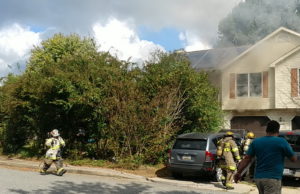 On Tuesday, October 9, 2018, at approximately 11:00 a.m., firefighters from Bay District, NAS Patuxent River, Second District, and Solomons, responded to the 22200 Block of Valleyview Drive, in Great Mills, for the reported garage fire.
Crews arrived on scene to find a 2-story split-foyer residence with heavy smoke showing from the front of the house, with both occupants of the home outside.
Upon further investigation, firefighters found a fire in the garage with extensions to the walls, ceilings, and two vehicles. The fire is believed to be accidental with the cause being electrical. The fire was placed under control and extinguished after approximately 35 minutes.
Firefighters on scene rescued approximately 12 dogs from the residence, along with 3 adult dogs that were in the backyard at the time of the fire. Emergency medical services and multiple good samaritans provided oxygen, and administered CPR on multiple dogs.
Three dogs died on the scene, and two cats were seen running away from the scene, with one cat having severe burns and injuries.
One adult male, and one adult female made it out of the home safely, but both suffered smoke inhalation after trying to re-enter the residence to rescue the dogs still inside. Both patients refused medical attention and no other known injuries were reported.
St. Mary's County Sheriff's Office, and Animal Control responded to the scene to assist.
Multiple neighbors and witnesses reported Animal Control being dispatched to the residence in the past.
Updates will be provided when they become available.