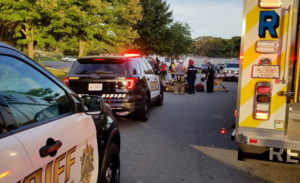 On Wednesday, October 10, 2018 at approximately 5:45 p.m., police fire and rescue personnel responded to Prather Drive, and Kent Drive, in Lexington Park, for the reported pedestrian struck by a vehicle.
Crews arrived on scene to find a child lying in the roadway  that was struck by a mini van.
The patient was transported by ambulance to an area hospital for his injuries
Police continue to investigate the incident, and updates will be provided when they become available.