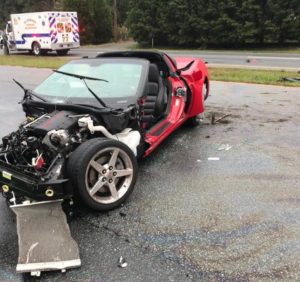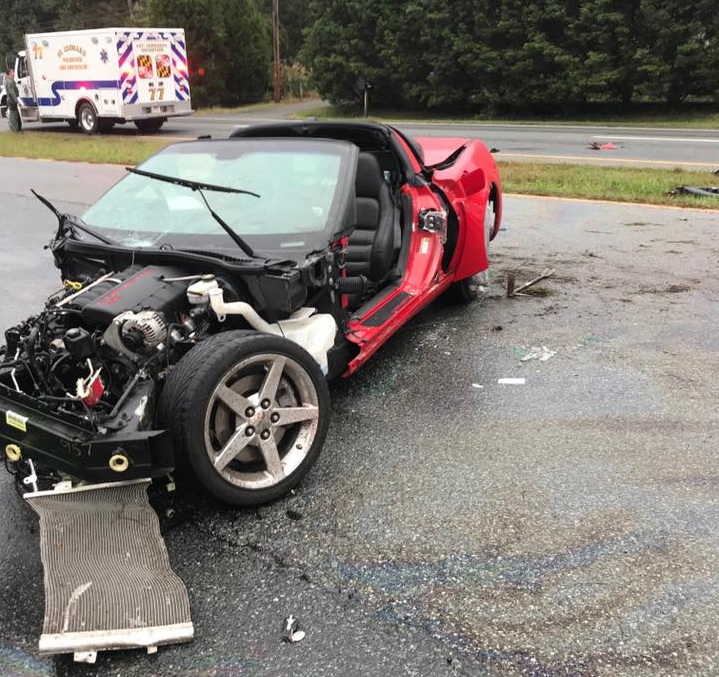 UPDATE 10/18/2018: On Monday, October 15, 2018, at approximately 7:30 a.m. a red corvette operated by Bobby Garcia, 45, of Lusby, was traveling northbound on Route 4 in the area of German Chapel Road in Prince Frederick, when he was making a lane change and lost control of the vehicle. The vehicle continued across the median into the south bound lanes striking a white pickup truck operated by Jose Portillo Romero, 36, of Silver Spring. The white pickup then struck another truck operated by Charles Rawlins Brown, 52, of Shady Side. Debris from the vehicles struck another car operated by Leesa Marie Orton, 47, of Saint Indigoes.
Several firefighters assisted in removing the drivers from the corvette and truck.
The operators of those vehicles were transported to PG Trauma by ground for their injuries (not life threatening).
Both lanes of Route 4 were closed for a short period of time while the accident was cleared.
Anyone with any additional information is asked to call Dep. R. Evans at 410-535-2800.
10/15/2018: On Monday, October 15, 2018, at approximately 7:50 a.m., police, firefighters and emergency personnel responded to Route 4 at German Chapel Road, in Prince Frederick for a motor vehicle accident.
First arriving units found a Corvette in the roadway and a pick up truck on it's side with subjects trapped in both vehicles.
Details will be provided as they become available.
Photos courtesy of Prince Frederick Volunteer Fire Department.