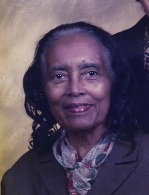 Mary Lucille Young, 86, of Morganza, MD passed away on October 23, 2018 in Leonardtown, MD. Born on October 31, 1931 in Morganza, MD she was the loving daughter of the late Mary Cecelia Reed and James Countis and the step-daughter of James Reed. Mary is survived by her son George A. Young of Morganza, MD, 2 grandchildren, 5 great grandchildren and her sister Louise Holt of Loveville, MD. Mary is preceded in death by her sisters Mary Theresa Young and Rosetta Young.
Mary was a lifelong St. Mary's County MD resident and attended St. Joseph's Colored School. She was employed as a Nursing Technician at St. Mary's Nursing Center for 25 years, retiring on June 31, 1995.
The family will receive friends on Monday, October 29, 2018 from 5:00 PM – 8:00 PM with prayers recited at 7:30 PM in the Mattingley-Gardiner Funeral Home Leonardtown, MD. A Mass of Christian Burial will be celebrated on Tuesday October 30, 2018 at 10:00 AM in St. Joseph's Catholic Church Morganza, MD with Father Drew Royals officiating. Interment will follow in Queen of Peace Cemetery Helen, MD. Pallbearers will be; Robert Young, Edward Holt, Paul Holt, Reginald Hildebrandt, Paul Herbert and Lamont Nelson.