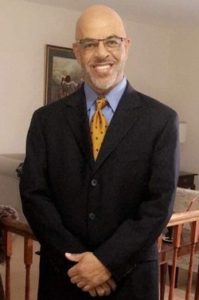 Thomas Edward Bankins, 61, of Germantown, MD passed away on October 20, 2018. Thomas, known to many as Tommy, was born on June 4, 1957 in Leonardtown, MD to the late James Bernard Bankins Sr. and Annie Elizabeth Young Bankins. He was number 11 of 12 siblings in a close-knit and loving family.
Tommy graduated from Chopticon High School in 1975 where he was a star athlete. Shortly thereafter, Tommy began his extensive career in public service. He had 37 years of Federal service, 30 of which were at the U.S. Department of Housing and Urban Development (HUD). In the latter part of his career, he worked for the Office of Housing Counseling where he was committed to guiding and helping people on their pathway to obtaining home ownership. Throughout his career, Tommy received numerous accolades and awards for his outstanding service in the housing community. He had a lasting impact not only the people he served, but on his countless colleagues, many of whom became some of his dearest friends over the years.
Tommy was a sports enthusiast, and especially loved the thrill and excitement of being a Dallas Cowboys fan in a Washington Redskins environment. As an avid outdoorsman, he enjoyed the peace and tranquility of being on the water, and some of his favorite pastimes included: fishing, crabbing and oystering. He also considered himself an expert in hand dancing and was truly the life of the party on any dance floor. Tommy was everyone's favorite jokester and never left a room without putting a smile on everyone's face. His wit, humor and comical storytelling were unrivaled.
As a loyal family member, Tommy was a loving and devoted father, brother and uncle. He worked tirelessly to ensure the happiness and well-being of his two beautiful daughters, Danni and Sydney. He gave great guidance and support to his many nieces, nephews and cousins, and exhibited nothing but genuine compassion for his friends and loved ones. Tommy loved spending quality time with family–laughing, playing and reminiscing about fond memories from the past.
Tommy leaves to cherish his memory, two daughters: Mackenzie "Danni" Bankins and Sydney A. Bankins; their mother Theresa Owens-Bankins; sisters and brothers: Marie (Edward) Kennedy; J. Bernard (Corrine) Bankins; Agnes T. Bankins; Cecilia J. Bankins; Veronica M. Bankins; Bernadette (William-deceased) Thomas; Gloria J. (Jerry) Fitzgerald; and J. Monique (Mark) Spencer; nephew Joseph "Jody" (Linda) Bankins; sister-in-law Alice Bankins; and a host of aunts, nieces, nephews and close friends. He was preceded in death by his siblings: Rose B. "Honey" Holly; Mary F. Bankins; and Joseph A. Bankins.
Beloved father, brother, uncle and friend – Tommy's kind-hearted and jovial spirit was truly a gift; and his family and friends will forever be grateful for the love, laughter and many precious memories they were blessed to share with him.
Family will receive friends on Monday, October 29, 2018 from 9:00 to 10:00 a.m., with a Mass of Christian Burial celebrated by Reverend Andrew Royals at 10:00 a.m. at St. Joseph's Catholic Church, 29119 Point Lookout Road, Morganza, MD 20660. Interment will follow at Queen of Peace Catholic Cemetery, Mechanicsville, MD.
Condolences to the family may be made at www.brinsfieldfuneral.com.
Arrangements by the Brinsfield Funeral Home, P.A.