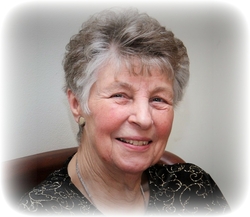 Julia "Judy" Mueller Raley, 86, of St. Inigoes, MD passed away peacefully on October 24, 2018, at Hospice House of St. Mary's in Callaway, MD., surrounded by her loving family.
She was born April 30, 1932 in Annapolis, MD to the late Mathias G. Mueller and Regina Dorr Mueller. While helping to construct the Pax River Naval base during WWII, Judy's father became interested in St. Mary's County, and chose to move his family here when the war ended. In 1945, they purchased a farm on Villa Road in St. Inigoes which locals knew as Pleasant Valley. When the Muellers relocated again in 1960, Judy and her husband Bill purchased the farm from her parents. Known today as Mary's Hope, the farm has remained in the Raley family for the past 58 years. Caring for and maintaining Mary's Hope as a family resource was a joy for Judy.
On December 2, 1950, Judy married her beloved husband, William E. "Bill" Raley at St. Michael's Catholic Church. Together they celebrated over 33 wonderful years of marriage before his death in September 1984. She was a devoted and loving wife, mother, sister, and grandmother. She was an excellent cook and made delicious homemade pies. She was a devoted Catholic and long-time member of St. Michael's Church. She was a Third Order Carmelite, a Eucharistic Minister for over 30 years, including taking communion to the sick and homebound, a member of the Ladies of Charity for over 60 years and a longtime member of the St. Michael's choir. Judy chose to leave the farm for a number of years because she desired to give service to the St. Michaels parish community and become the full time host of Bethany House, a retreat center for woman. She did this for over 10 years before returning to the farm. She enjoyed travelling, especially to Rome, the Holy Lands and Hawaii. Her family was her greatest love and she enjoyed spending her time with them.
Judy is survived by her children: Mike Raley (Lorie) of St. Inigoes, MD, John William Raley (Suzi) of Ridge, MD, Jay Raley of San Jose, CA, David Raley of Hughesville, MD, Betty Woodburn (Pat) of St. Inigoes, MD, Amy Warren (Ted) of St. Inigoes, MD, Ginny Lewis (Paul) of Leonardtown, MD, and Terri Raley of Leonardtown, MD; her siblings, Loretta "Dee Dee" Orwig of Valley Lee, MD and Margaret "Peggy" Adams (Rick) of Meridan, GA; 12 grandchildren; 11 great grandchildren; and many extended family and friends. In addition to her parents and beloved husband, she is also preceded in death by her siblings: Mary Gene Smith, Helen Clarke, and Gerry Mueller.
Family will receive friends for Judy's Life Celebration on Tuesday, October 30, 2018 from 5:00 to 8:00 p.m., with prayers at 7:00 p.m., at St. Michael's Catholic Church, 16566 Three Notch Road, Ridge, MD 20680. On Wednesday, October 31, 2018 a Mass of Christian Burial will be celebrated by Monsignor Karl Chimiak at 10:00 a.m. at St. Michael's Catholic Church. Interment will follow in the church cemetery.
Serving as pallbearers will be grandsons: Aric Farmer, Adam Farmer, Jeff Lewis, Jake Lewis, J.J. Raley, Jereme Raley, Scott Woodburn, and Dane Woodburn.
Memorial contributions may be made to St. Michael's Catholic Church, P.O. Box 429, Ridge, MD 20680 and St. Michael's School Archangel Scholarship Fund, P.O. Box 211, Ridge, MD 20680.
Condolences to the family may be made at www.brinsfieldfuneral.com.
Arrangements by the Brinsfield Funeral Home, PA.