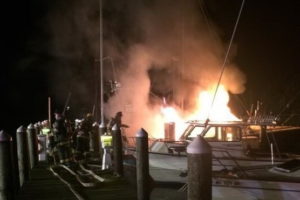 On Saturday, October 27, 2018, at approximately 8:40 p.m., firefighters from Bay District, Solomons, Hollywood, and NAS Patuxent River responded to 23703 Bill Dixon Road, and North Patuxent Beach Road, in California for the reported boat fire.
Dispatch advised responding units they were receiving multiple 911 calls reporting a medium sized boat in the water next to the pier, was on fire and threatening other boats, with multiple explosions reported.
Crews arrived on scene to find a boat approximately 40 feet, fully engulfed in fire with exposures to two additional boats and the pier.
Additional (HAZMAT) Hazardous Material Emergency crews were requested for absorbent booms, due to approximately 100 gallons of diesel fuel leaking into the river.
The Maryland Department of the Environment was notified, but did not respond.
The fire is currently being investigated by the Maryland State Fire Marshal, and Maryland Department of Natural Resources, updates will be provided when they become available.
Some photos courtesy of Bay District Volunteer Fire Department.