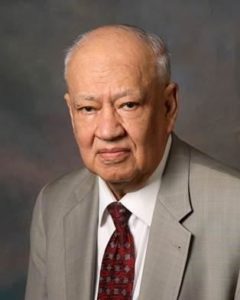 Dr. Guillermo E. Sanchez, 82, of La Plata, MD, passed away on Thursday, October 25, 2018 at University of Maryland Charles Regional Medical Center. Dr. Sanchez was born and raised in Cochabamba, Bolivia. His father, Jose Sanchez was a lawyer and newspaper editor, and his mother, Aida Sanchez, was a homemaker. He graduated from La Salle High School and La Salle University prior to attending medical school at the University of San Simon. He immigrated to the United States in 1964 to begin a residency in orthopedic surgery at Providence Hospital in Washington, D.C., where he met his wife, Patricia. Shortly after they married and started a family, Dr. Sanchez was drafted into the military and served in the U.S. Army for two years. He spent a year of his service as Chief of Orthopedics at the 18th Surgical Hospital in Vietnam and was awarded the Bronze Star for meritorious achievement in 1971.
Following an honorable discharge he joined the staff of Physicians Memorial Hospital in La Plata, Maryland (now Maryland Charles Regional Medical Center) and, in partnership with his wife, built a thriving medical practice in Charles County. For the greater part of his career he worked seven days a week and often logged 12 to 16 hour days, earning a reputation as a caring doctor with boundless energy who always put the interest of his patients first. He served local residents of all socioeconomic backgrounds and never turned anyone away for inability to pay. He had a special fondness for the Sisters (Servants of the Immaculate Heart of Mary) who taught at Archbishop Neale School and the Carmelite Nuns at the Mount Carmel Monastery—both in La Plata.
His professional achievements, appointments, awards, and philanthropy are too numerous to list in their entirety, but some examples include serving as Chief of Staff, Chairman of the Department of Surgery, and Physician Representative to the Board of Directors—all at Physicians Memorial Hospital. He was a member of the American Medical Association and the American Fracture Association; held terms as President, Secretary, and Treasurer of the Charles County Medical Society; and was a Physician Advisor to the Medical Board of the Maryland Motor Vehicle Administration. He was highly involved in creating the Rehabilitation Center at the Charles County Nursing Home and served as its Medical Director. In recognition of his efforts the Rehabilitation Center was ultimately named in his honor. Dr. Sanchez also offered his talents to an inner city hospital, serving as an emergency room physician at D.C. General Hospital every Monday for more than twenty years.
In addition to his professional achievements, Dr. Sanchez was a devoted husband, father, grandfather, son, brother, and friend. He was well known for his salteñas (delicious Bolivian turnovers); backyard grilling; buying oranges by the case to make fresh juice every morning; taking groups of kids to the movies, amusement parks, skating rinks, etc.; throwing legendary St. Patrick's Day parties; organizing charitable events such as the yearly hospital Thanksgiving basket fundraiser; donning an elf costume for the hospital's annual children's holiday party; decking out his home in colorful lights for Christmas; having an attachment to whatever ageing/debilitated car he drove and refused to let go; and never failing to fall asleep during a movie, play, or musical.
Dr. Sanchez was preceded in death by his beloved daughter, Laurie Sanchez and four siblings: Jaime Sanchez, Carmen Sanchez, Corally Gattringer, and Gerardo Sanchez. He is survived by his wife, Patricia Sanchez; children: Donna Fialkowski, Maria Weirich, and Patrick Sanchez; sons-in-law: Paul Fialkowski and Cal Weirich; sister: Teresa Sanchez; and grandchildren: Allison Fialkowski, Helen Fialkowski, Tommy Fialkowski, Caroline Weirich, CJ Weirich, Anna Maria Weirich, Will Weirich, and Reed Sanchez-DiManno.
Visitation will be held Friday November 2, from 4 p.m. to 8 p.m. at St. Ignatius Church, 8855 Chapel Point Road, Port Tobacco, MD 20677. The funeral service will be held Saturday, November 3, at 11 a.m. at Sacred Heart Church, 201 St Marys Ave, La Plata, MD 20646.
The family requests that memorial donations be made in Dr. Sanchez's name to the Carmelite Nuns at the Mount Carmel Monastery. Donations may be made via mail (Discalced Carmelites of Maryland, Inc., 5678 Mt. Carmel Road, La Plata, Maryland 20646-3625) or online at: http://www.carmelofporttobacco.com/page11.html.
Condolences may be made to the family at arehartechols.com