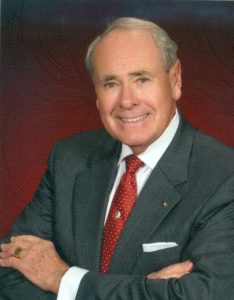 Garyton Colvard Echols, Jr., 85, of LaPlata, Md. passed away on Friday, October 26, 2018, surrounded by family at Hospice of Charles County.
Born October 17, 1933, in Washington, D.C., he was the son of the late Garyton Colvard and Christine Combs Echols.
He moved to LaPlata in 1958 with his wife Carol raising a family of six children. He was extremely active in the community and had a "life of service" to the Town of LaPlata and Southern Maryland for over 60 years. One of his passions of service was being a life member of the La Plata Volunteer Fire Department for 59 years. He held many LPVFD elected offices: President for 5 years, Vice President for 4 years, Board of Directors for 2 years, Treasurer for 2 years and as Chief for 11 years. He was also an Instructor at the Maryland Institute of Fire and Rescue and helped train a generation of first responders who continue to serve our community. He has volunteered and served on many community organizations including The Charles County Rotary as past President, The LaPlata Planning Commission as Chairman, and Board Member of the Fire and Rescue Commission.
His first passion of service was that of a funeral director and local funeral home owner. Funeral service is a tradition in his family. He moved to LaPlata as a 3rd generation funeral director to branch out on his own with his young wife and together they purchased the Arehart Funeral Home, now the Arehart-Echols Funeral Home, managed by his son David. He co-founded with his sons the Brinsfield-Echols Funeral Home and Crematory in Charlotte Hall. He practiced his career of funeral service with a simple belief that every life deserves to be remembered and celebrated
He was preceded in death by his wife, Carol Ann Echols, whom he married June 21, 1958. He is survived by his dear friend Martha Ann McKean of La Plata, Md., four daughters, Mary C. Lindamood (Danny) of Charlotte Hall, Md., Nancy Lee Turnbeaugh (Kevin) of Saluda, Va.,Barbara E. Moffatt-Gill (Fred) of Stuart, Fl. and Tessa B. Echols-Henderson (Duke) of Port Tobacco, Md.; two sons, Garyton Colvard Echols III (Anita) of Lubbock, Tx. and David C. Echols (Julie) of La Plata,Md. and a brother in-law, Hilton C. Smith Jr. (Catherine) of Charleston, SC; a sister-in-law Nancy Smith of Mexico; 11 grandchildren (Danny Lindamood, Jr. (Corinne) Katelin Via (Josh), Patrick Clark, Carol Murrah, James Murrah, Drake Moffatt, Avery Echols, Gary Echols IV, Christian Echols, Emily Echols, Madison Echols ; five nieces and nephews; four great-nieces and nephews, and 3 great grandchildren Brinley and Olivia Lindamood and Reagan Via.
The family will receive friends Thursday, November 1st, from 1 to 3 p.m. at Arehart-Echols Funeral Home in La Plata. Also on Thursday, visitation will be held at the LaPlata Volunteer Fire Department from 6-8 p.m. with Firemen's prayers at 7 p.m.
Mass of Christian burial will be celebrated Friday, November 2nd, at 10 a.m. at Sacred Heart Catholic Church, LaPlata, Md. Interment to follow at St. George Church Cemetery in Valley Lee, Md.
In lieu of flowers, memorial donations may be made to LaPlata Fire Department, P.O. Box 728, La Plata, MD 20646; Hospice of Charles County, 2505 Davis Road, Waldorf, MD 20603; or Charles County Rotary Scholarship Fund, P.O. Box 37 LaPlata,Md. 20646.