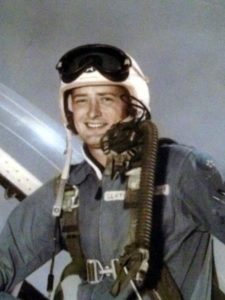 Major Leslie Clinton Slaybaugh (USAF Retired) age 87 of Brandywine, MD died October 21, 2018 at the Charles County Hospice House. He was born October 14, 1931 in Des Moines, Iowa. He was the son of the late Virginia D, Shoemaker and Leslie Johnson Slaybaugh. He was proceeded in death by his beloved wife Mary Ann, his brother William Slaybaugh, and granddaughter Lisa Christine. Leslie is survived by his brother Gary Slaybaugh, his children Lynda Caye Rinaldo (Steve), Leslie Craig Slaybaugh (Noni), and L Christopher Slaybaugh, and grandchildren Laura, Lindsay, Marc, Leslie, and Michelle, and 5 great grandchildren.
Major Slaybaugh was a retired USAF pilot that served his country from 1953-1974. He was a Vietnam War veteran. He loved to fly and served as a flight instructor for the Air Force. Leslie Slaybaugh was a lifetime member and past president of the Brandywine Lions Club. He was very dedicated to community service.
A service will be held at Cheltenham Veteran's Cemetery 11301 Crain Hwy Cheltenham, MD 20623 on November 1, 2018 at 11:00 am.
In lieu of flowers, the family asks for donations to be sent to the Charles County Hospice House 2502 Davis Rd Waldorf, MD 20603.