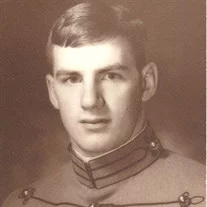 LTC Douglas L. Streeter, 69, of Huntingtown, MD passed away on Saturday October 27, 2018 surrounded by his loving family. Born in Grand Rapids, Michigan he was a son of the late Maurice and Dolores (Inman) Streeter. He was the beloved husband of Laurie G. (Begbie) Streeter. He loved the Lord and was guided in all he did by his Lord and Savior Jesus Christ.
He was a graduate of the United States Military Academy, Class of 1971 and Georgia Tech University, Class of 1980 where he received a Master's Degree in organic chemistry. He was a veteran of the United States Army retiring with the rank of Lieutenant Colonial in 1992. He served as an artillery officer in the Army, eventually returning to West Point to serve as the head of the Organic Chemistry Section. He was also a retired federal employee with the DOD. He taught science at both the high school and community college level in New Jersey and Virginia. He was known as a very patient and understanding teacher by his students and peers in the teaching profession.
In his spare time he enjoyed being in the outdoors hiking and camping and most of all spending time with his family; his wife and children who adored him. He was known as a great encourager to everyone around him. He was also an avid fan of Army football. Along with his wife, Laurie, he is survived by two sons; Matthew and Daniel Streeter, a step-son Donald Brody and a step-daughter Jennifer Gould (Patrick), three grandchildren; Damien, Cecilia, and Miriam Gould, and a sister; Beverly Sheldon.
Friends may call on Saturday November 3, 2018 at the Lee Funeral Home-Calvert, 8200 Jennifer Lane, Owings, MD where a memorial gathering will be held from 2-4pm followed by a memorial service at 4:00pm. Interment will be at a later date at the United States Military Academy.
Contributions may be made to the American Parkinson Disease Association www.apdaparkinson.org or the American Diabetes Association, P.O. Box 11454, Alexandria, VA 22312, or Save The Children, 501 Kings Highway East, Suite 400 Fairfield, CT 06825, www.savethechildren.org