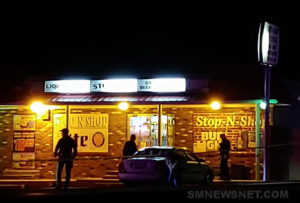 UPDATE – Official Sheriff's Office Press Release: On Oct. 31, 2018, at approximately 6:50 p.m., St. Mary's County Sheriff's Office Deputies responded to a robbery at the Stop-N-Shop liquor store on Great Mills Road in Lexington Park. It was reported that a white male wearing a Halloween mask entered the establishment, displayed a weapon and demanded money from the cashier. After taking an undisclosed amount of cash, the suspect then fled the area on foot.
The case is under investigation by the St. Mary's County Criminal Investigations Division.
Anyone with any further information about this case is asked to call Detective Cpl. Austin Schultz at 301-475-4200, ext. *1953 or email Austin.Schultz@stmarysmd.com.
11/1/2018: On October 31, 2018, at approximately 7:00 p.m., deputies from the St. Mary's County Sheriff's Office responded to the Stop-N-Shop Liquor Store, located on Great Mills Road, in Lexington Park, for the report of an armed robbery.
Police arrived on scene to find a white male had entered the store and stolen an unknown amount of cash and fled the area on foot in an unknown direction.
A K-9 unit was called to the scene to assist in tracking a suspect, however it ended in negative results.
The suspect was reportedly wearing a red shirt, blue jeans, with a white "Jason" Halloween mask, and was armed with "some type of gun".
The St. Mary's County Sheriffs Office are currently investigating the incident, and updates will be provided when they become available.