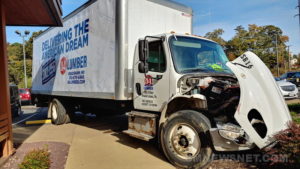 On Thursday, November 1, 2018, at approximately 2:50 p.m., police fire and rescue personnel responded to Outback Steakhouse in the Wildewood Shopping Center, for a reported serious motor vehicle crash with one person unresponsive.
Crews arrived on scene to find a large box truck had left the roadway for unknown reasons and into the Outback Steakhouse parking lot, where is subsequently struck three vehicles before stopping next to the building.
The single occupant/operator of the box truck was transported to an area hospital with unknown injuries. No other injuries were reported.
Deputies from the St. Mary's County Sheriffs Office are investigating the crash, and updates will be provided as they become available.