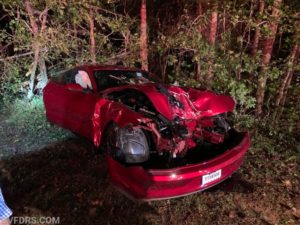 On October 20, 2018, at approximately 11:30 p.m., police, fire and rescue personnel responded to the area of Maxwell Drive and Prince Frederick Road, in Benedict, for the reported serious motor vehicle accident with one patient ejected.
Crews arrived on scene to find a Ford Mustang off the roadway and into the woods with heavy damage.
Emergency medical services immediately called for a Helicopter while the fire department stabilized the vehicle and extricated the patient from the vehicle.
The single operator/occupant was flown by Maryland State Police Helicopter Trooper 2 to an area trauma center.
All photos are courtesy of Benedict Volunteer Fire Department.
Updates will be provided when they become available.