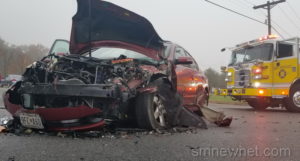 On November 6, 2018, at approximately 7:00 a.m., police fire and rescue personnel responded to Point Lookout Road and Seth Court in Callaway, for the reported serious motor vehicle accident with a vehicle overturned, and one person trapped.
Crews arrived on scene to find two vehicles in the roadway, and one vehicle overturned on its side, with the single occupant trapped.
After approximately 10 minutes, firefighters extricated the patient from the pick-up truck and emergency medical services took over patient care.
Two patients were transported by ambulance to an area hospital with non-life-threatening injuries.
Maryland State Police are investigating the crash, and updates will be provided when they become available.